Our Law Firm Thailand The Social Lawyers
Provides Internationally Accepted

POWER OF ATTORNEY
&
AFFIDAVIT THAILAND

Reasonable Prices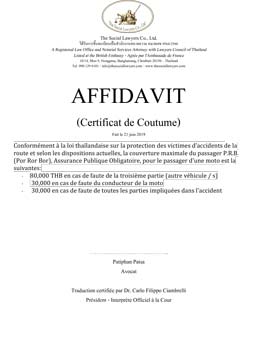 POWER OF ATTORNEY
in Thailand and Outside Thailand

A Power of Attorney should specify subject and details to authorize a legal action as sell, purchase, lease, etc. All special conditions shall be explained.
2) Cannot use various printing, different colour or typewriters.
3) The grantor shall not sign his/her name before completing the form.
4) At least one witness is strictly required. At least two witnesses are needed in case of the grantor uses his fingerprint. The
witnesses are not allowed to thumbprint, they are requested to sign the document legibly.
5) If the grantor is over 60 years old, he/she shall be of sound mind.
POWER OF ATTORNEY GIVEN OUTSIDE THAILAND
(International Powerof Attorney)
A power of attorney done outside Thailand shall be legalized by an embassy, a consular authority or a notary public.

A Power of Attorney given outside Thailand should be drafted in two languages: Thai language and the language of the Country where it is given (English and Thai are normally accepted).
A POA, acronym for Power of Attorney, is a "legal-tool", instrumental in giving a third party the power to represent somebody in his/her absence. We define the two main subjects as Grantor, or Principal (the person offering to somebody else the authority to serve him) and the Grantee or Agent, also defined as Attorney-in-Fact.
Some eminent jurists define the POA as a unilateral act. In fact, a Power of Attorney, even though is unilaterally revocable (many times we find wording as "I give my irrevocable POA to...", which is wrong and null), to be valid, needs to be " accepted" by the Attorney-in-Fact, the Agent, but it is not a contract (link a "His Majesty the Contract") and, most importantly, cannot be "endorsed" (transferred) to someone else. Only the Principal can confer a new POA to a different person.
Finally, a POA can be given to a Jurist Person, as a public entity, a company or a Foundation.
Particular Powers Of Attorneys are frequently conferred to a person such as a lawyer or company's executive to endorse documents on behalf of a company.
AFFIDAVIT
An affidavit (also called Certificat de Coutume) is an autographed statement made by our multilingual lawyers in Thailand, called affiant or deponent. It is a formal affirmation by a qualified person to do so by law, as a notary public or a lawyer defined "commissioner of oaths".
An affidavit is, therefore, a verified report containing a verification, under oath or penalty of perjury and serves as proof.
Our AFFIDAVITS can be presented to foreign officials as proof of evidence.